A bunch of random things —
1. If you're worried that a past employer is going to give you a bad job reference, don't despair — there are things you can do to neutralize it. Over at U.S. News & World Report today, I tell you how.
2. I know that we have a lot of librarians here, so I want to tell you about Emily Weak, who is surveying hiring managers in the library world and presenting the results on her blog; the idea is to demystify hiring processes in the library world. You can go here to read her results or, if you're a hiring manager in the library field, take her survey yourself.
3. Aspiring law school students, think twice about your law school dreams.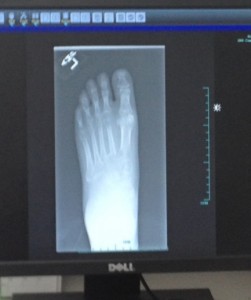 4. View my unbroken foot in all of its splendor!
Even though the bone I broke four months ago is now healed, soft tissue damage and other issues associated with the rehab stage mean that I'm still not really walking much, but I can totally hobble from my couch to my kitchen and back without crutches now, so I'm making progress…