And now a break to talk about a sponsor…
We have a bunch of readers on here, and I bet a lot of you don't know about Oyster but you should!
I resisted switching to an e-reader for a long time. I was — well, I thought I was — a traditionalist when it comes to reading books. But I started reading on an iPad while traveling, because it's amazing how you can carry hundreds of books with you on a tiny device, and then I got hooked. Now, although I'm slightly unsettled by this fact, I actually prefer reading on a tablet. Here's why: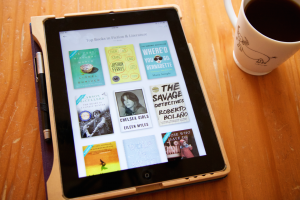 I can read in bed in the dark while my husband sleeps; no light needed.
I can get a book I want to read instantly; no having
to go get it from the library or bookstore or having to wait for it to show up from Amazon. It shows up right now.
The aforementioned taking hundreds of books with you when you travel and not having to just take a few and hope that you'll stay in the mood for them.
So. Enter Oyster. Named one of TechCrunch's "Best Apps," Oyster Unlimited is a ridiculously beautiful e-book subscription service that will give you unlimited access to more than 1 million books (for only 99 cents for 3 months right now!). You can read as many books as you want, for as long as you want, and you can download books to read them offline. They've got books in every genre from top publishers and everything from classics to new releases to the New York Time's best-sellers and award winners, with new titles added every day.
Oyster also has a store where you can buy books that aren't yet in subscription and read them on the Oyster app, so all of your books are in one place. If you only want to purchase books, you can buy any book in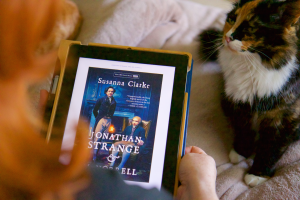 the store without having a subscription.
There are lots of cool features, like recommendations based on what you like to read, the ability to follow friends and swap book recommendations, and access to the reading list of interesting people (like Michael Chabon and Doris Kearns Goodwin). You can even read all of the Harry Potter books in custom themes inspired by each Hogwarts House (!).
Another cool thing, especially if you tend to stay up reading way too late, which is often my own downfall: Based on your location and the time of day, Oyster will reduce the blue light coming from your screen as the day turns into night (this is good, because devices that emit blue light can suppress your production of melatonin, keeping you awake and making you less alert the next morning). 
Oyster is accessible on iOS, Android, Kindle Fire, Nook HD, and on the web.
Some of my favorites on Oyster include:
Jonathan Strange and Mr. Norell by Susanna Clark (if you haven't read this yet, please do so immediately)
A Confederacy of Dunces by John Kennedy Toole
The Railway Children by E. Nesbit
The Liar's Club by Mary Karr
A Room with A View by E. M. Forster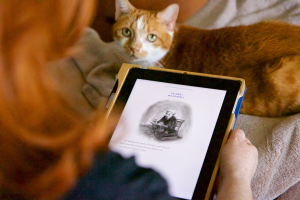 Normally Oyster Unlimited is just $9.95 a month, but to get a special promotion of three months for only 99 cents, use this special link.
Disclosure: This post is sponsored by Oyster. All thoughts and opinions are my own.