And now a break to talk about a sponsor…
Over the years, I've heard loads of people recommend You Need A Budget as a program that didn't just give them a budgeting tool, but totally changed how they thought about money. So I was really excited when the folks there reached out and asked me to tell y'all about them!
You Need A Budget – which is a personal budgeting web app (with companion apps for Android and iOS) – will teach you a philosophy that will help you get out of debt, stop living paycheck to paycheck (if you are), and save more money faster. And it'll help you budget in a way that ensures that your money lines up with what you care about most.
When you get started with YNAB (as it's called by fans), it'll help you implement a zero-based budget, meaning that at the beginning of every month, you'll "give every dollar a job" — whether it's saving, paying a particular bill, eating tons of tacos, or whatever it might be). And it'll help you set up goals and milestones, and easily set aside small amounts to work toward those goals.
One of the coolest things YNAB does is nudge you in helpful directions. For example, if you overspend in a category, it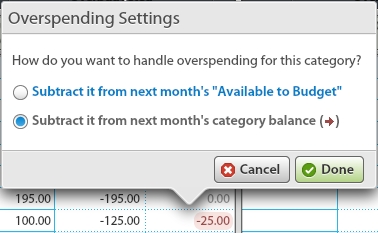 will ask you if you want to subtract that amount from next month's Available to Spend or if you want to pay if off over time. If you choose the latter, it'll remind you about the potential impact of letting a debt sit and will encourage you to pay it off next month instead, if you can. Not like a naggy parental figure – more like a very helpful CFO.
They also offer free daily, online classes in things like budgeting, handling credit cards, and even "Dealing with Different Pay Cycles. And the whole thing is easily customizable, and you can edit your budget at any time if an unexpected cost comes up (one of their rules is "roll with the punches").
I figured testimonials from other Ask a Manager readers might be interesting to see, so here are things that AAM commenters have said here about YNAB in the past:
"YNAB is amazing. We're doing just fine financially but I still maintain it's the best budgeting program out there – bar none. The inherent ability to roll-over budget categories, account for overages, and live on last month's income is nothing short of perfect when it comes to personal financial management." – Steve

"I use YNAB, and it's seriously the best thing that's happened in my financial life. Not only does it allow you to track where your expenses are going, but setting up a budget based on the money you actually have lets me spend (or not) without guilt. I budget about $25 for breakfast or lunch out per month, and then before I buy something, I log into the app to see how much I have left in that category. If it's enough, great! If not, I know that before I buy something. If I really still have to buy it, I do it with the acknowledgement I'm going to have to pull it out of some other category (that might be more fun, like a vacation). It makes you so much more mindful, and having a plan for your money is really essential." – Kate M

"It is like excel sheets on steroids, and it has charts, and it makes everything easy. I don't work for them … but I can say this software changed my life!" – Lynne

"I've managed to reduce my debt by 25% in the year and a half I've been using YNAB. I would have thought that was impossible before … It really helped me break out of the paycheck-to-paycheck cycle. I'm in a much better place financially than I was before I started using it. – Cordelia
You should try YNAB because you really do need a budget, and this one is awesome. You can sign up for a 34-day free trial here. (And note that the entire software is free for students!)
Disclosure: This post is sponsored by You Need a Budget. All thoughts and opinions are my own (or those of the readers I quoted).