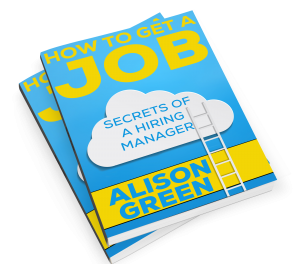 If you've ever wished that you could look into the brain of a hiring manager to find out what you need to do to get hired, How to Get a Job: Secrets of a Hiring Manager is for you.
Written from my perspective as a long-time hiring manager, this e-book gives you step-by-step guidance through every stage of your job search … explaining at each step what a hiring manager is thinking and what they want to see from you … from getting noticed initially, to nailing the interview, to navigating the tricky post-interview period, all the way through your offer.

In this e-book, you'll learn things like:
what hiring managers are looking for when they ask common interview questions
how to talk about sensitive issues when you interview — firings, bad bosses, and more
how to avoid companies that aren't a good fit
6 ways you might be sabotaging your job search
2 ways you can turn rejection to your advantage
I wrote this guide because I want you to stop feeling like you're at the mercy of faceless employers, and to understand how you can really click with a hiring manager.
Here's what readers like you have said after purchasing it:
"This morning my husband had an interview. I bugged him for over a week about reading your guide and he ignored me. Yesterday, I twisted his arm and finally got him to read it. He liked the advice so much he read it a second time. He really took it seriously and followed all of the advice you gave … He just called me to tell me the interview was done and that it had been the best interview he had ever had." — Kim J.
"I used to have 50/50 luck getting past phone interviews and into the actual in-person interview. Once I read your book, I went 100% in getting past the phone interview, and I was ALWAYS in the top running for every position since then. I absolutely know it was because of your advice in the book. I could just feel the quality of my interviews go up exponentially after I read it." — Russell B.
"When I first got to the interview and saw the interview questions (they had them written out for me), I thought they had taken their questions right from your guide!" — Becky N.
"Thanks to you, I have a new job." — Elizabeth P.
"I just received an offer for an excellent position, and your advice helped me clinch it. I never had a more relaxed interview, and my interviewers were all smiles the entire time. I literally had an offer before I made it back to my car." — Kat S.
And, you'll also get two free bonus items: two webinars, each an hour long, of me offering job search advice and doing Q&A. (These are audio files.)
Still not sure? I'm offering a 30-day money-back guarantee, because I don't want you to feel any risk.
Get your copy of How to Get a Job: Secrets of a Hiring Manager right now!