I'm the co-author of Managing to Change the World: The Nonprofit Manager's Guide to Getting Results. If you want all my thoughts on how to be a good manager, this book is it.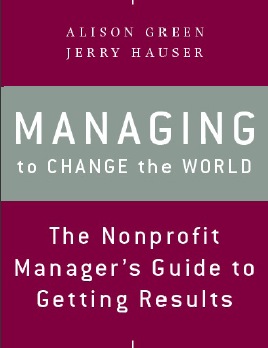 While the book is geared toward nonprofit managers because that's what my co-author, Jerry Hauser (former COO of Teach For America and current head of The Management Center), and I care about most, there's little in here that I wouldn't recommend to any manager in any sector.
The book provides step-by-step guidance on the fundamentals that help managers produce and sustain great results, like how to set clear goals and hold people accountable to them; delegate specific responsibilities and ensure they're executed well; create a results-oriented culture; hire, develop, and retain a staff of superstars; address performance problems forthrightly and replace staffers who fall short; and much more. We also included a bunch of tools, like sample scripts for talking about performance problems, worksheets for delegating well, and oh so much more.
You can learn lots more (as well as see the table of contents and read the first chapter) here.
You can buy Managing to Change the World here. Tell your nonprofit-y friends! Buy it anonymously for your incompetent manager!
What people are saying:
"This book captures the nuts-and-bolts of management in a comprehensive, insightful, and practical manner. What a great resource for both nonprofit and for-profit managers." – Les Silverman, director emeritus, McKinsey & Company
"Your management bible still sits on my desk and I've gifted it to more than a few other social entrepreneurs along the way… an invaluable resource!" – Abby Falik, Founder and CEO, Global Citizen Year
"I've bought it for all my managers. We walk around quoting it left and right. It's a great piece of work." – Nitzan Pelman, Executive Director, Citizen Schools New York
"I have found it to be incredibly useful. It is truly a remarkable achievement." – Richard Buery, Jr., President and Chief Executive Officer, The Children's Aid Society
"What a great book! I bought it for my entire management team because I wanted them to benefit from its wisdom too." – Gene Karpinski, President, League of Conservation Voters
"I hand this book to every executive director I meet with because I have found it so valuable for myself and for my team." – Judith Freeman, Executive Director, New Organizing Institute
"As one of my colleagues put it, 'Managing to Change the World changed my life!' It was hands-down the most helpful management book that I've read." – Serena Unrein, Executive Director, Arizona Students' Association